Fireman's Fund founder, Captain William Holdredge, 1860s.

Copyright by Gillett,
Reference 1-4-0-1-1, 0131. (*)

| | |
| --- | --- |
| | |
The San Francisco waterfront, looking northward from a point south of Mission, showing the hay and grain warehouse of Henry Dutton & Sons, 1860s.
Copyright R. J. Waters & Co.
Reference 6-1-0-2-14, 1115. (*)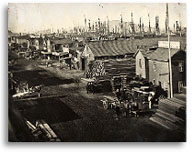 1862


September: articles of association are filed and subscription book opened, but the response is minimal.

---

1863


May 1: Fireman's Fund Insurance Company is founded by Captain William Holdredge.

Fifty directors are appointed.

Captain Holdredge is named first president.

May 6: FFIC files articles of incorporation in the state of California; capital $200,000.

June 18: The company begins business.

June 18: FFIC issues it's first policy to Walter Hawxhurst covering one half interest in 1,000 kegs of Boston syrup. Premium is $12.

---

1864


Vice President Samuel H. Parker, "a more practical businessman," is elected FFIC's second president.

Offices are moved to the ground floor quarters at 238 Montgomery Street.

---

1865


Parker ends the profit-sharing arrangement that FFIC had with the San Francisco Fire Department Charitable Fund. FFIC pays the firemen $5,000 in gold coins. Parker is credited for saving the company.

The company's capital increases to $500,000.

---

1866


William Bowers Bourn, president of Imperial Mining Company in Nevada and one of the largest stockholders, is elected FFIC's third president.

David Jackson Staples is named vice president, but serves as functional president.

The California legislature authorizes fire insurance companies to write marine insurance.

---

1867


March 14: Parker, the company's second president, dies and Staples becomes the company's first long-term president.

FFIC enters the Marine Insurance market determined to get its share of San Francisco's business.

William J. Dutton, son of founder and director Henry Dutton, is hired as Marine Clerk.

Construction of the new head office at California and Sansome Streets is completed.

---

1868


Premium income is $200,224.

Eastern branch headquarters opens in New York with Skeels, Bowers and Boughton, managers.

The California legislature creates the office of Insurance Commissioner which requires insurance companies to become licensed and file annual statements.

---

1869


A marine office opens in New York as a joint enterprise between FFIC and two other companies, California Insurance Union and Occidental Insurance Company. Managers are James A. Lawson and William A. Walker. George D. Dornin is general agent.