View of Chicago one year after the devastating fire of 1871. Courtesy of the Library of Congress.
No copyright indicated.
Reference 3-2-0-1-16, 0231.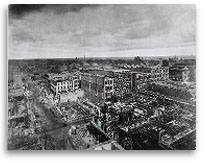 Commission of agent Thomas Chard, July 1, 1872. Chard established the Western Department in Chicago in 1872.

No copyright indicated.
Reference 3-3-1-4-6, 0304.

| | |
| --- | --- |
| | |
1871

October 8 - 11: The Chicago fire destroys 17,500 buildings over 2,1,24 acres. FFIC pays full losses of $529,000 even though capitalization is only $500,000. Dutton convinces shareholders to have faith in the company and their confidence saves FFIC. The company pays each claimant 50 cents cash and issues IOUs for the balance.

An accident involving the whaling boat Carlotta prompts FFIC to stop insuring boats exceeding certain latitudes.

---

1872

The Eastern Department divides. Skeels, Bowers and Boughton keep New England and the middle states. Thomas Chard establishes the Western Department in Chicago.

November 9: The Boston fire destroys fifty acres in the heart of the business district. FFIC pays $190,000 in losses.

Charles R. Bishop of Honolulu agrees to represent FFIC in Hawaii.

---

1873

As a result of the Boston Conflagration capital stock is reduced from $500,000 to $300,000 and the Board of Directors is reduced from 50 to 11 directors.

FFIC opens business in Hawaii. The agency is managed by Bishop and Company.

---

1875

The Virginia City fire destroys 2,000 structures in the densest part of town. FFIC pays $164,000 in losses.

---

1876

FFIC invents and issues the first Standing Grain Policy. The company maintains dominance in the agricultural insurance market.

March: Skeels, Bowers and Boughton dissolve, and the entire eastern and central business is handled by Thomas Chard.

---

1878

FFIC issues the first company publication, Insurance Items, which becomes the Fireman's Fund Record in 1880.

---

1879

Vice President Henry Dutton dies.

FFIC is the only insurance company doing general business throughout the United States.