The Texas City, Texas waterfront burning after the explosion of the freighter Grandcamp, 1947.

Copyright United Press International.
Reference 4-1-1-1-52, 0507.

| | |
| --- | --- |
| | |
The divers who siphoned $2,000,000 of canned salmon from the Diamond Knot, 1947.
No copyright indicated.
Reference 4-1-1-1-166, 0514.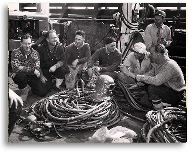 1940

Construction of the Tacoma Narrows Bridge, the world's third longest suspension bridge, is completed and Fireman's Fund provides insurance. The bridge later collapses.

---

1942

491 people die in the Coconut Grove Fire in Boston.

---

1943

Charles Hannah becomes Fireman's Fund's ninth president.

The Fireman's Fund Pioneers is founded for retired employee.

---

1944

Premium income is $50,000,000.

The Supreme Court decides that insurance is a form of interstate commerce and thus is subject to anti-trust legislation. Fireman's Fund supports state supervision of the industry (in U.S. vs. South-Eastern Underwriters Association).

168 people die at the Ringling Brothers, Barnum and Bailey Circus Fire in Hartford, Connecticut.

---

1945

Premiums reach $36,187,229 (fire and allied lines, $13,802,445; motor vehicles, $2,803,649; ocean and inland marine, $19,581,135.)

Because of contracts with the War Shipping Administration, marine underwriting is the most profitable line for Fireman's Fund.

Charles Hannah dies, and James Crafts succeeds Charles Hannah as president.

---

1946

Premiums reach $41,314,000 (fire and allied lines, $19,478,000; motor vehicles, $4,962,000; ocean and inland marine, $16,874,000.)

Marine underwriting continues to be the most profitable line compared to fire and auto insurance, which sustains high losses due to the growing increase and severity of fires, and the number of old cars on the road after the war.

---

1947

Premiums written: $54,039,000.

Fireman's Fund Indemnity Company and Western National Indemnity Company, a subsidiary owned by Fireman's Fund, are consolidated.

Jacob (J. B.) Levison, Fireman's Fund president from 1917 to 1937 and chairman of the board of directors from 1937 to 1943, dies.

Fireman's Fund plans the J. B. Levison Memorial Museum.

Stockholders number 5,580.

An informal history of the company, "The Wouldn't Take Ashes for an Answer," is written.

Stanford University conducts an employee attitude survey showing high morale, favorable working conditions and good opportunities for advancement.

Salvage of $2,000,000 worth of canned salmon from the wreck of the Diamond Knot, sunk in 135 feet of water in the Strait of Juan de Fuca, between Washington and British Columbia, is successful. A film and booklet are produced to demonstrate the salvage operations. Fireman's Fund insures the cargo, valued at $3.5 million.

Fireman's Fund becomes a member of the American Foreign Insurance Association (AFIA) which represents the company in almost every major city in the world.

Fireman's Fund agents number 11,000.

The explosion of ammonium nitrate in the freighter Grandcamp set off a series of fires that rage in Texas City, Texas for six days.

---

1948

Premiums written: $109,271,000.

Fireman's Fund stock is owned by 7,593 shareholders.

Fireman's Fund staff totals 3,000. Many employees devote free time to the organization of social and athletic programs.

Marine underwriting is adversely affected by maritime strikes, yet the business still enjoys an underwriting profit.

Western National Indemnity Company begins underwriting reinsurance exclusively. The business consists mainly of treaties and arrangements with a number of well-known insurance companies.

Fireman's Fund plays role in getting "open competition" rating laws passed in California.

---

1949

Premiums written: $117,232,000.

Employee benefits increase at Fireman's Fund and life insurance is offered at no extra charge to employees.

Western National Insurance Company and Home Fire and Marine Insurance Company merge with Home Fire and Marine designated as the surviving company.