Excavating a road to the Boulder Dam (later renamed Hoover Dam), 1931.

Copyright Lawton & McClure Inc., San Francisco.
Reference 4-1-1-1-42, 0507.

| | |
| --- | --- |
| | |
The Golden Gate Bridge under construction, 1936.
Copyright Gabriel Moulin, San Francisco.
Reference 4-1-1-1-20, 0506.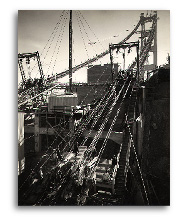 1930

Premium total is $22,511,690.

Fireman's Fund announces plans to organize the Fireman's Fund Indemnity Company to write all forms of casualty insurance throughout the United States (except life insurance).

---

1932

More than 1,000 people are left homeless after a fire at Coney Island.

The steamer Columbia hits an offshore reef off Baja, California. Salvage efforts recover 230 out of 236 bars of gold in the hold. Fireman's Fund insures 192 bars.

---

1936

Fireman's Fund provides insurance for construction of Hoover Dam.

The company is one of the leaders in insuring the building of the San Francisco-Oakland Bay Bridge, which is completed during the year.

---

1937

Fireman's Fund writes more than $25,000,000 in premiums.

J. B. Levison retires from presidency and Charles R. Page is elected president.

Construction of the Golden Gate Bridge is completed and Fireman's Fund is one of the main insurers.

Fireman's Fund buys the Insurance Exchange building to expand its offices.

---

1938

Capital increases to $7,500,000.

The great New England hurricane kills 600 and destroys millions of dollars of insured property.