Fireman's Fund and Marin County Chamber of Commerce officials plant a tree on the future site of the Lucas Valley Computer Center, 1973.
Copyright Cal-Pictures, San Francisco.
Reference 4-1-1-4-134, 0532.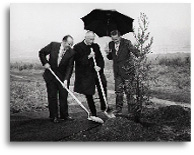 Cleaning up on the set of "Apocalypse Now" after a typhoon halted production, 1976.

No copyright indicated.
Reference 4-1-1-4-73, 0258.

| | |
| --- | --- |
| | |
1971

The new Fireman's Fund agency agreement is introduced.

Fireman's Fund introduces nationwide the automated Homeowners/Act System, which automates the rating and issuance of policies.

Fireman's Fund introduces Personal Catastrophe Cover, a flexible policy offering up to $5 million in excess personal liability coverage.

Fireman's Fund establishes the Farm Department at the San Francisco office.
Fireman's Fund emphasizes advertising and public relations directed toward demonstrating the need for reform in automobile reparations systems by adopting no-fault insurance plans in which victims are paid quickly by their own insurance companies regardless of fault.

A public service campaign is launched to acquaint property owners in designated flood-prone areas with the protection of the new National Flood Insurance Program.

Fireman's Fund establishes Fireman's Fund American Loss Control (FALCON) to check compliance with standards set by the newly-enacted Occupational Safety and Health Act (OSHA).

An automobile claims service center opens in Anaheim, California.

---

1972

Fred Merrill retires and Louis Niggeman succeeds him as president.

Attention is devoted to helping industrial clients bring their work environment up to OSHA standards.

Fireman's Fund introduces Special Accounts Information Service program (SAIS), a facility to provide computer-produced loss exhibit profiles to commercial clients.

Fireman's Fund develops FAMEX, a subsidiary to facilitate commercial group insurance by centralizing the underwriting.

Fireman's Fund offers Personal Catastrophic Coverage.

---

1973

January 8: Groundbreaking ceremonies are held for Fireman's Fund's Marin County Computer Center in Lucas Valley.

---

1974

President Louis Niggeman dies.

---

1975

The industry is plagued by inflation, regulatory delay, crime, arson and a general slowing of the economy.

Fireman's Fund implements the Model Branch program.

Fireman's Fund introduces Commercial Gard program, a multi-peril package for insureds who do not need the flexibility of a commercial risks portfolio.

---

1976

The company's name is changed to Fireman's Fund Insurance Companies.

The advertising campaign "Fireman's Fund Flashbacks" air during half-time segments of all nationally and regionally televised NCAA football games.

Francis Ford Coppola files a $500,000 claim after a typhoon destroys the set of "Apocalypse Now" in the Philippines. Fireman's Fund provides cast and set insurance for the motion picture.

---

1978

Myron Du Bain is named chairman, president and chief executive officer. Edwin Cutler is named vice chairman.


Excess and Special Risk Market Inc., a Fireman's Fund subsidiary, opens four excess and surplus line brokerage offices.

Fireman's Fund develops a management training program for field underwriting supervisory staff.

---

1979

Fireman's Fund establishes a National Accounts and Risk Management Services Department which offers services such as claims administration, loss control, premium audit, industrial hygiene and statistical analysis.

Fireman's Fund introduces the Business Owners Policy, a flexible package of broad coverage for smaller businesses.

Fireman's Fund sets goals for the 1980s: to become the premier property-liability insurance company in the United States; to moderate the impact of underwriting cycles on the company's financial results; and to become a significant factor in the life insurance and personal financial services markets.