Portrait of William J. Dutton, elected Fireman's Fund president in 1900.
No copyright indicated.
Reference 4-1-3-4-11, 0404, Fireman's Fund Record.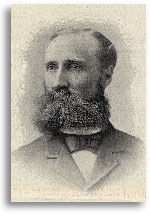 View of the fire burning in San Francisco and refugees gathering in a public park, 1906.

No copyright indicated.
Reference Breer Collection.

| | |
| --- | --- |
| | |
1900

Premium income is $1,920,676.

April 3: ex-president David Staples dies.

William J. Dutton becomes president.

Thomas Chard retires as manager of the Western Department and is succeeded by the firm of Marshall and McElhone.

December: The name of the Home Mutual Insurance Company is changed to Home Fire and Marine Insurance Company, it being a mutual company in name only.

---

1904

Fire in Baltimore destroys 2,600 buildings in an 80 block area of the business district. The company pays losses of $470,000.

FFIC reinsures the entire American business of Thuringia Insurance Company of Eufort, Germany.

FFIC joins with the Union Marine of Liverpool, England and the Mannheim Insurance Company of Mannheim, Germany thereby giving up their exclusive representation in the Atlantic marine field.

---

1905

Levison creates the automobile branch of the Marine Department and FFIC enters the automobile insurance business on a national scale.

---

1906

March 1: FFIC writes its first automobile policy.

April 18-22: The San Francisco earthquake and fire destroys much of the city. It is the biggest conflagration in history.

FFIC loses most of its company records. Between 5,000 and 6,000 claims are filed and gross liability is $11.3 million.

May 9: A prospectus is approved by the board of directors for a new corporation to reinsure unburned risks.

May 19: With the help of a loan from the Crocker National Bank to provide capital, the new FFIC is licensed by the California insurance commissioner to write insurance in the state.

May 22: The new FFIC completes the reinsurance of all outstanding policies of the former company.

July 23: Policy Holders' League is formed to keep an eye on the liquidation of the former company and ensure the payment of claims.

August 8: J. B. Levison proposes a plan to the executive committee of the Policy Holders' League to "pay every penny in cash possible, and return the balance out of future earnings." The plan is accepted and, in the end, claimants are paid half in cash and half in company stock.

July 9: Gold from the steamer Tenana is robbed by saloon watchman Bobby Miller.

---

1907

April: A telegram announces the successful re-launching of the old FFIC.

Premium Income is $5 million.