Blotter advertising insurance on growing crops by J. B. Fuller, Fireman's Fund's agent in Marysville, California, 1883.

No copyright indicated.
Reference 3-3-1-10-35, 0322.

| | |
| --- | --- |
| | |
Fireman's Fund headquarters at the corner of California and Sansome Streets, 1889. The building was renovated and expanded in 1884.
Copyright Tabor, San Francisco.
Reference 4-5-1-2-4, 0905. (*)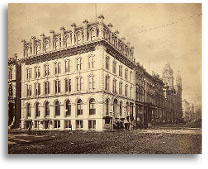 1880

Capital increases to $750,000 after being reduced in 1871 and 1872.

---

1885

The Eastern Department is established in Boston under the management of Charles W. Kellogg, a Boston businessman. He relieves Chard of the responsibility of managing the whole region east of the Rockies.

---

1886

Capital increases to $1,000,000.

Half of FFIC shareholders live in the East and more than half of the company's business is transacted in the Atlantic states.

Bernard Faymonville is hired as assistant secretary.